Accessories
ALL ACCESSORIES YOU WILL EVER NEED
When you're working out, it's nice to have everything in one place. A towel that fits perfectly on the bench or a shaker for your PWO. Our accessories are designed by ourselves to fit perfectly with our products.
But of course you take your accessories with you to the gym or to the outdoor gym.
We have everything you need for mobility training and stretching. Foam roller or why not work on knots with a pressure ball , perfect for your recovery.
det ska vara enkelt att handla från oss
Vi har alltid fri frakt på alla paket. Sedan varierar frakten utefter hur stort och tungt din produkt är, men vi försöker alltid hålla nere frakten så mycket vi kan.
Din leverans kommer med DHL eller BRING. De kommer att ringa dig innan för att boka en utkörning, se till att vara förberedd att plocka in grejerna när det kommer. Ett hemmagym kan väga upp till 3-400 kilo i flera olika kollin.
Du får en tracking kod av oss när varorna lämnar lagret och med den kan du följa din leverans och även kontakta utkörningsfirman om du skulle ha funderingar. Vi får inga uppdateringar av DHL eller BRING efter att varan lämnat vårt lager men hjälper dig såklart om något skulle strula, bara att höra av dig.
Normalt lämnar varorna vårt lager 1-3 dagar efter att du har lagt din order.
Handlar du från oss här på hemsidan så kommer du få fler alternativ att betala. Du kan betala direkt med kort eller välja att dela upp din betalning, eller betala efter leverans, men Klarna.
Om du vill ha en faktura så kan du kontakta oss på info@oakequipment.com så hjälper vi dig med faktura och även en offert om du vill bygga ditt egna gym.
Du kan också hyra ett färdigt hemmagym från oss eller plocka ihop ett alldeles unikt gym och hyra det per månad. Inga administraiva avgifter eller räntor, bara en rak kostnad varje månad.
Alla frågor är välkomna och vi står redo för att hjälpa dig.
Ibland blir det inte som man tänkt sig. Kanske fick du inte in riggen eller något annat funkar bara inte. Eller i allra värsta fall så är något trasigt eller skadat vid leverans.
Vi finns här för att hjälpa dig. Vi har inte en massa finstilt eller krångel utan försöker såklart att se till att du får det hemmagym du har drömt om. Läs gärna våra omdömmen så ser du att vi alltid gör vårt yttersta.
Du har ju även rätt att ångra dig enligt distansköpslagen och skulle det vara så är det bara att hojta till så fixar vi allt.
Returfrakten är alltid dyr, speciellt om man inte vill ha sina grejer. Om något är trasigt eller skadat så betalar vi, självklart. Samma gäller om det blivit fel på din order.
Om du bara ångrar dig och inte längre vill ha något får du dock stå för returfrakten. Oftast försvinner hela vår vinst om vi skeppar grejer fram och tillbaka därför blir det svårt i längden att bjuda på frakten. Hoppas du förstår och vi snckar igenom det inna såklart, oftast kan vi lösa det ändå.
Story
Sverres garagegym
I april 2022 byggde Sverre Liliequist ett gym i sitt garage, ett Oak gym.  Vi hördes över telefonen då han alltid varit lite av en idol under min tid som skidåkare. Allt från Free radicals filmerna...
läs mer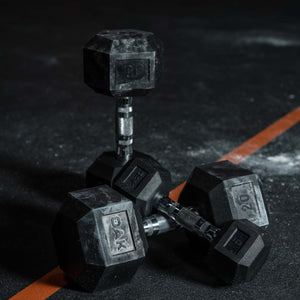 Story
Train your chest and shoulders in your home gym
Exercise shoulders and arms at home. Training muscles for growth, strength or endurance is a bit different.
läs mer
Story
Program your own WOD
In a previous post, I described, in a slightly longer form, how to build a Crossfit training session. In this article, I thought I would run a shorter description for those of you who want to enter...
läs mer